Join Elly, François and Tom for zoom tennis sessions.
During this lockdown we are giving it a try with some Zoom Tennis Learning/Training sessions. We will be covering topics that relate more to advanced committed players. Content will be appropriate to the age of the children, but with the goal of challenging them and giving them a focus for their tennis each week!
Sessions will just be 40 minutes and we will expect everyone to be on time so that we can maximise the session.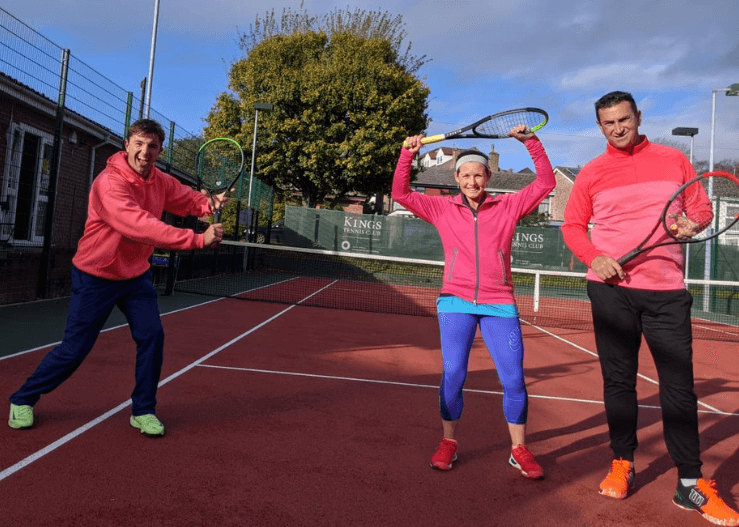 Each session is £4 and you will be able to book up to four weeks in advance.
Tennis Zoom Meeting Guidelines with Elly Shearman Tennis Coaching
These zoom tennis session guidelines are from a safeguarding perspective and must be read ahead of children attending a session. We assume that by booking a session there is parental permission to participate in the zoom session. Guidelines below:
There will be a small fee for the 40 minute zoom sessions to help cover coaches time in the preparation as well as the zoom.
Coaches all have their DBS and safeguarding training.
We will be using Zoom for our Thursday sessions and we will need people to adhere to the following instructions;
All under 18's must be using a zoom account set up by a parent or guardian
A parent or guardian must be present in the room/be able to hear all content of the zoom session
All tennis sessions will use an encrypted connection
When you log on please make sure that your child's full name is logged on so that we have a register
for the session and know who everyone is when letting everyone in to the session
When attending the zoom call make sure you are dressed appropriately – preferably sports kit in
case there are exercises/activities to do during the session
Please check that there is nothing private behind you in the background that you wouldn't want
others on the call to see
All attendees are expected to treat everyone on the call with respect as they would in their tennis
session. The coach will lead the session but there will be interactive conversation where we may need
to use the hands up tool
When booking on to the session it is assumed that there is parental permission to join the session
We may ask permission to those attending to take a screenshot of a session to share on social media for the purpose of showing how we are engaging with our junior program. We will not take any photos otherwise. If any parents wish their child to not be included in a screenshot this will be respected.
If you have ANY safeguarding concerns;
Sam Hawke is our safeguarding office, please only contact Sam if you are not comfortable talking to Elly about your concerns.
It will depend on your child's age and skill, we will inform you when your child is ready to move to the next group.
At Elly Shearman Tennis Coaching we encourage progression within our sport, we will of course let you know when your child is ready to move up a group. If you have any questions or queries please get in touch.
As a general rule for U10s, if they put the end of the handle in their armpit with the racket running along their arm, they should just be able to touch the end of the racket. By the time children are 11+ they will probably be using a full size 27" racket.
If you are unsure please ask your coach when you next see them and they will be able to advise.
We are an inclusive club and we want to encourage as many people to play tennis as possible. We have a number of squads for teens but we also offer drop in sessions for teens who just want to play for fun and not commit to a weekly more competitive session. All details can be found here - Pay-as-you go Tennis Sessions
Elly Shearman Tennis Coaching only coaches at Kings Lawn Tennis Club. Our head coach, Elly Shearman is part of the Avon Tennis Coaching team and will coach at different clubs as part of this role.
Yes, we would love to do more curriculum tennis, if your school is interested please feel free to give them our details. However, many schools have multi-sport programs working out of their school or running in their PE lessons and this can sometimes hinder whether they want tennis experts coming in as well.
If these FAQs don't provide you with the answer you are looking for please contact us.