Our newest Level 2 Accredited Tennis Coach, Phoebe Thomas shares 5 facts about herself.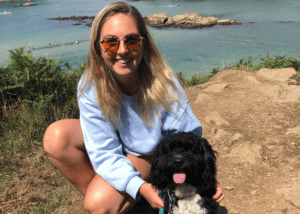 Phoebe joined the Elly Shearman Coaching Team at the end of 2021 and has already made a great impact in her sessions with the junior tennis players. We hope you enjoy these 5 things you probably didn't know about…Phoebe!
1. I made Ash Barty a chicken, cheese and avocado toastie before one of her matches when I worked in the Players' Lounge at Wimbledon!
2. Recently I cycled from Land's End to John O'Groats on a road trip with my mum!
3. I am a huge Taylor Swift fan and have seen her live six times…
4. I am obsessed with my family dog called Ralphie!
5. My Granny represented Great Britain in tennis and reached a career-high of world number 2 in 2016!
To find out more about Phoebe click here.
If you are interested in finding out more about Elly Shearman Tennis Coaching and what we have on offer please get in touch to find out more. We offer something for everyone whatever level you are!