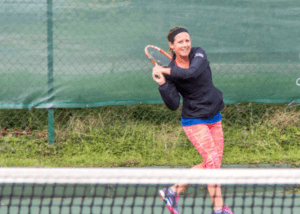 |
We are so excited to let you know that Elly has been accepted on the LTA Level 4 Senior Performance Course. This is an extremely selective course and only 16 people in the UK are accepted each year. This reflects Elly's excellent application and the LTA's belief that Elly will ...
Read More

→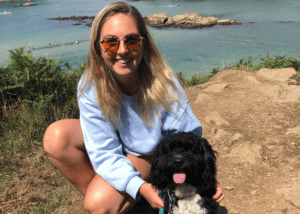 |
Our newest Level 2 Accredited Tennis Coach, Phoebe Thomas shares 5 facts about herself. Phoebe joined the Elly Shearman Coaching Team at the end of 2021 and has already made a great impact in her sessions with the junior tennis players. We hope you enjoy these 5 things you probably ...
Read More

→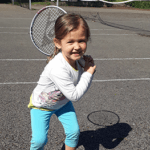 Toddler Tennis
Aimed at children under 5
A 6-4 week course introducing basic ball and racket skills but mostly just having fun on the courts.
Find Out More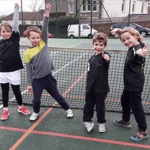 Red Ball
Aimed at children 8 and under
Using a slow foam ball and a smaller court for those starting out in tennis and learning to hit.
Find Out More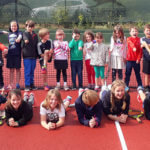 Orange Ball
Aimed at children aged 8-9
Learning techniques, tactics and how to rally with a ball that is 50% slower than a yellow ball.
Find Out More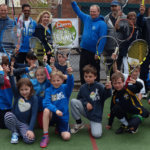 Green Ball
Aimed at children aged 9-10
Using a ball that is 25% slower but playing on a full size court and progressing towards the full game.
Find Out More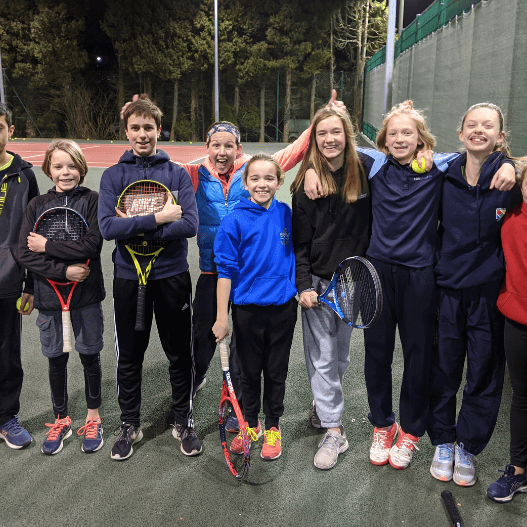 Yellow Ball
Aimed at older children and teens
Sessions for players of all levels and also regular squads for the more competitive kids.
Find Out More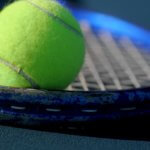 Individual Lessons
With a coach that suits your child
We also offer 1-hour individual lessons with our coaches.
Find Out More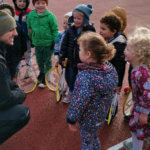 Pay As You Go Tennis
For children of all ages
We run several pay as you go sessions on a Saturday morning to get kids playing tennis with no commitment needed.  
Find Out More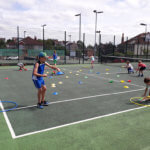 Tennis Parties
A fun way to celebrate birthdays!
We provide the courts and the coaches and you can also book the clubhouse for cake afterwards! 
Find Out More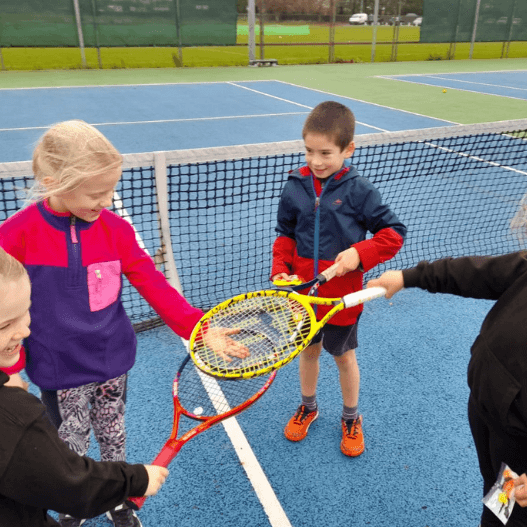 Advanced Sunday Sessions
Advanced Training for 6 – 9 year olds
Sessions are for children playing in matches, children must be able to rally, serve, return and score a match.
Find Out More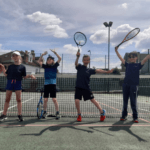 Junior Team Challenges
Start playing in competitions
A team competition for children learning to play tennis with an emphasis on playing in a team and fun!
Find Out More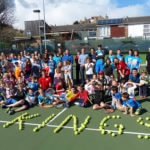 Holiday Tennis Camps
All ages and abilities
Open to all ages (4-15) during the school holidays. A great way to get kids outside playing tennis and having fun.
Find Out More
We always try to group similar ages and abilities together so please get in touch if you are unsure which session is best for your child.
Want to join Kings Tennis Club?
You don't have to be a member to come along to our sessions but if you want to use the courts outside the sessions you might want to join Kings Tennis Club.