Social Distancing Restrictions
We are thrilled to be able to offer individual and small group tennis lessons as the Government has confirmed tennis is a sport with can be undertaken in a way compliant with the current social distancing restrictions.
However, we need your help as it is vital, if they are to continue that everyone abides to the guidelines that we have been given!
Therefore as you can imagine we have adjusted the way we run our individual and small group lessons a bit to ensure this happens. A few key restrictions and guidelines are as follows:
Please can everyone enter the courts from the Birchall Road entrance using the gate on court 6 and please keep a distance on the pavement waiting to go in – these are the bottom courts where children will come in and stand in a line. The coaches will then split them dependent on age and ability. On entering, if they have a friend they want to be with please tell the coaches as this will be fine. They will then stay on the courts with their group all morning. Coaches will be teaching the same age groups whenever possible all summer.​
In both individual and groups NO ONE except the coach MUST TOUCH THE BALLS – there will be the odd mistake and these will be put aside for 72 hours but please make sure your child is clear on this before attending! At the moment we are maintaining the rules that children will not touch the balls – we have methods to teach them to pick up using racket and ball and to push all balls to the net etc. Please remind your child of this and the coaches will at the beginning of a session – its worked well so far!​
The maximum in a group will be 5 and so children will have a half court in which they must stay until their rotation and there will be an exercise station for the 5th in the rotation.
If any children do not behave as we expect we will contact parents after that session. If any child has to be asked to stay on task or follow instructions more than once or twice in a session we will probably ask that the space gets given to someone else. This is because we want to coach and with the guidelines we won't have tolerance for disruption.​
We will continue to do no serving but will work on smashes to help serving actions.
A reminder that the toilets are not open yet unless we have an emergency! Please make sure all children (and adults) have been to the toilet before leaving home!​ During Holiday Camps toilets will be able to used by children but only when absolutely needed. They will have to go on their own and not in pairs and they will have to ensure they have washed hands before coming back on court. Please ensure your child knows that it is ok to ask if they do need the toilet.
The coaches will position themselves on the other side of net, and maintain social distancing from the player at all times. When taking small groups the coach may be positioned at the net but always keeping a safe distance from all individuals.
Adaptations to some drills and the coaches provide feedback/instruction may be needed to ensure social distancing guidelines can be safely adhered to.
Players should bring their own rackets (if you don't have a racket please advise the coach ahead of the session to ensure we can sort one).
We will use new or fresh tennis balls where possible for each lesson which will mean we use less balls per lesson (no more than 20 balls and therefore there will be much more rallying with the coaches.
Please wash your hands before you arrive and as soon as you are home.
Please make sure your child has a large water bottle and a snack – we will not want them going in to the clubhouse to refill water bottles, so if they need to bring two bottles then please do! PLEASE LABEL!​
If it rains bring a raincoat and we can also recommend putting waterproof trousers on! If its sunny please apply high level sunscreen before coming as we can't assist them in putting on more and bring a hat, sunglasses if they can.​
For the Saturdays we will let you book up to 4 weeks in advance and the sessions are booked individually to follow our normal Saturday morning drop in, and in the hope that more children can access the groups on different weeks.
All children will leave via the gate on court 6 as well so we ask to be understanding ass we release them with distancing. We don't have groups starting immediately after groups so there won't be people waiting to come in at the same time as pick up. Please then get your children to wash hands once home – we will have hand sanitiser to use on the way out.​
We will post on Mondays what is left for the following few weeks on the Kings Facebook and Instagram pages so please "like" us to keep up to date​.
During the Holiday Camps we will have a gazebo out on the patio so that patio so that children can shelter from rain or sun for short times in small groups.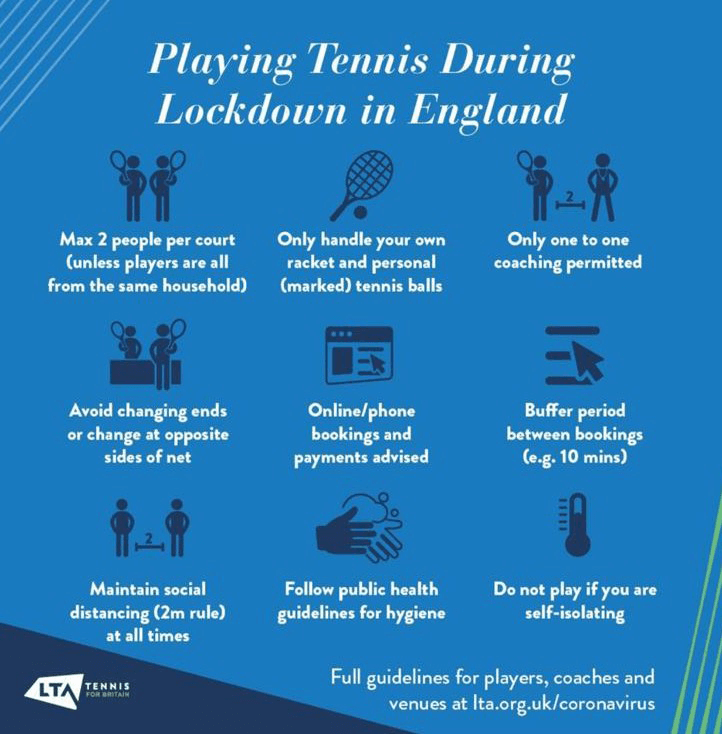 We hope you are able to work with us through these changes as it will be an adjustment from our usual lessons and we do feel that we can make a lot of progress even with these adaptations and are excited to see you on court!
For more information and full guidelines from the Lawn Tennis Association please visit here and Guidance documents for players can be found here.
COVID & Cancellations/Refund Policy; September 2020
Please read the information below before booking on to courses so that you are clear with the policies. We will be checking in with National and LTA (Lawn Tennis Association) updates and guidelines throughout to ensure that we are following all instructions and procedures.
An e-mail will be sent out the week before squads/groups begin giving each group the courts that their squad/group will take place on and which gate to enter and leave from. This is to prevent too many people being in/near the clubhouse.
As children arrive at a squad/group they will be checked off on the register and also asked if anyone in the household has any covid symptoms (high temp, new cough, loss of taste/smell). If yes to any of these they will be sent home immediately. Children will be asked to hand sanitise before and after each session and do the same to the grip on their racket. Children will be asked not to touch their face during sessions.
If due to covid and self-isolation (if a Doctors note is provided) your child misses 3+ weeks of squads/groups then please contact me (ellytennis.Kings@hotmail.com) and you will be offered a holiday course morning for free to be used within 6 months.
If a coach reports symptoms they will be instructed to immediately get tested and stay at home. All groups coached by the coach will be informed. If the coach is tested positive then all those coached by him/her will be informed and asked to self-isolate, get tested and report to us if there is a positive test result. To please report to ellytennis.Kings@hotmail.com
If we have to close or cancel any squads/groups due to covid I will communicate via e-mail and you will receive a 75% refund of the total of the remaining weeks of term.
If we are asked to reduce groups sizes due to covid back to 5 for example will will try to split our squads/groups in half (most will be 8 children for midweek squads/groups we will bring in an assistant for each group so that there is 4/5 on one court with a coach leading and an assistant. With the split in half we will keep friends together and groups will use separate balls. This will ensure everyone can still have their session but in a more controlled environment.
INDIVIDUAL LESSONS; If an individual lesson is booked online you should receive an e-mail confirmation. We expect to have people turn up for lessons on time and cannot be held responsible for reminding people or chasing people if they do not turn up at the start time. If you are going to be late to a lesson please get in touch with us. This summer we have made up lessons when people have forgotten but from now on unless there is a valid reason no refund will be given. We have lots of people wanting these sessions so please be sure to double check your lesson day & time.
Don't forget to follow us on Facebook, Instagram and Twitter to keep up to date with all our news and updates.
Any questions just let us know.
Elly, Francois & Tom