We are thrilled to be able to offer individual tennis lessons as the Government has confirmed tennis is a sport which can be undertaken in a way compliant with social distancing restrictions. Therefore as you can imagine we will have to adjust the way we run our individual lessons a bit to ensure this happens. A few key changes will be:
Please don't arrive any earlier than 5 minutes before your lesson and please wait until the lesson before you has left.
When you arrive at Kings Lawn Tennis club please make your way to the court 6 & 7, there is a lock on the gate so no one else can enter apart from the person having the lesson.
The coaches will position themselves on the other side of net, and maintain social distancing from the player at all times.
Adaptations to some drills and the coaches provide feedback/instruction may be needed to ensure social distancing guidelines can be safely adhered to.
Players should bring their own rackets (if you don't have a racket please advise the coach ahead of the session to ensure we can sort one).
We will use new or fresh tennis balls where possible for each lesson which will mean we use less balls per lesson (no more than 20 balls and therefore there will be much more rallying with the coaches.
The coaches will be the only person to touch the tennis balls and players will be asked, or taught how, to pick balls up with their racket/foot only if needed. Therefore there won't be any serving practise during these early lessons.
Please wash your hands before you arrive and as soon as you are home.
The clubhouse will not be open and so there will be with no toilet facilities
Please bring a water bottle as there will be no drinking water available.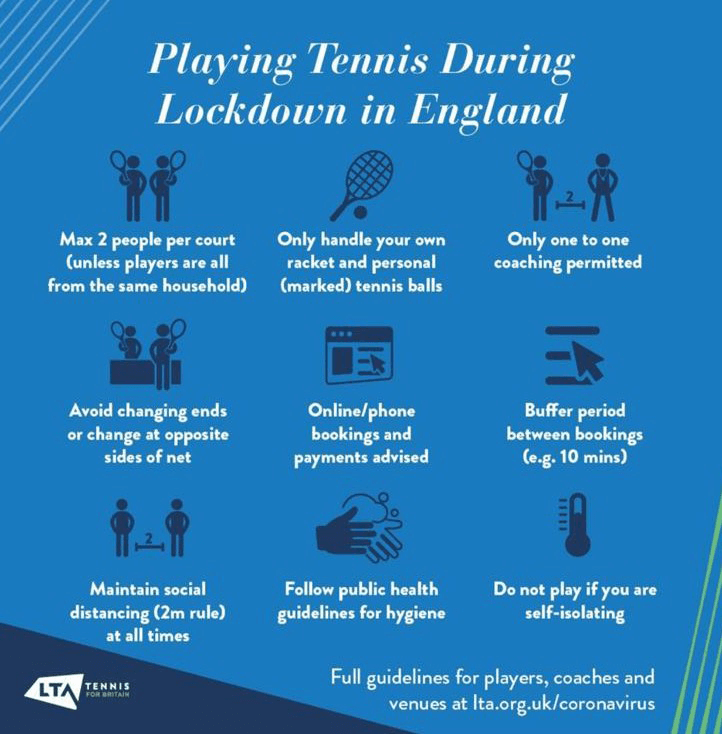 We hope you are able to work with us through these changes as it will be an adjustment from our usual lessons and we do feel that we can make a lot of progress even with these adaptations and are excited to see you on court!
For more information and full guidelines from the Lawn Tennis Association please visit here and Guidance documents for players can be found here.
Don't forget to follow us on Facebook, Instagram and Twitter to keep up to date with all our news and updates.
Any questions just let us know.
Elly, Francois & Tom