Louis has been working with a number of our Juniors and this month he is sharing some of his wisdom.
Hello Everyone, I am Louis and have really been enjoying working with some of the Juniors at Elly Shearman Tennis Coaching.
It is that time of year when we start to think of goals/targets we can set ourselves to achieve in the New Year. Success with our resolutions can often be mixed, and the same can be said about setting goals within sport. Having the correct goals in place can lead to increased motivation to achieve what you have set out to do and can be helpful by directing your attention to the task at hand. You may have seen goals broken down into outcome, performance, and process goals before.
Outcome goals – Usually involve the result of something like winning. These can motivate us, but we rarely have total control over something like winning.
Performance goals – A performance standard that you are trying to achieve. This might be to get 60% of first serves in, this could then develop into getting 65% of first serves in after a certain amount of time.
Process goals – These goals support your performance goals by giving you a specific focus. These are completely under your control and linking it back to our first serve example you may work with your coach to identify certain parts of your serving action that will help you to increase your serve percentage!
Example of the above:
Outcome: I want to win more matches
Performance: Improve footwork and volleying technique
Process: Do extra (skipping) outside of practice, and when I'm at practice focus on the drills that will help me improve in the areas I want to.
It's important to remember some obstacles we face when trying to achieve our goals. Write down some obstacles you will likely face and then a couple of sentences on how you can overcome those obstacles.
Potential Obstacle(s) could be: dips in motivation, injuries, busy schedules, team or coaching changes, you might need more time (which is fine) or you may need to tweak your plan (which is also fine). Being aware that you will encounter obstacles is key. You can even make some plans to overcome them ahead of time.
Plan to overcome them: the infographic outlines SMART goals which is another way of breaking down your goals.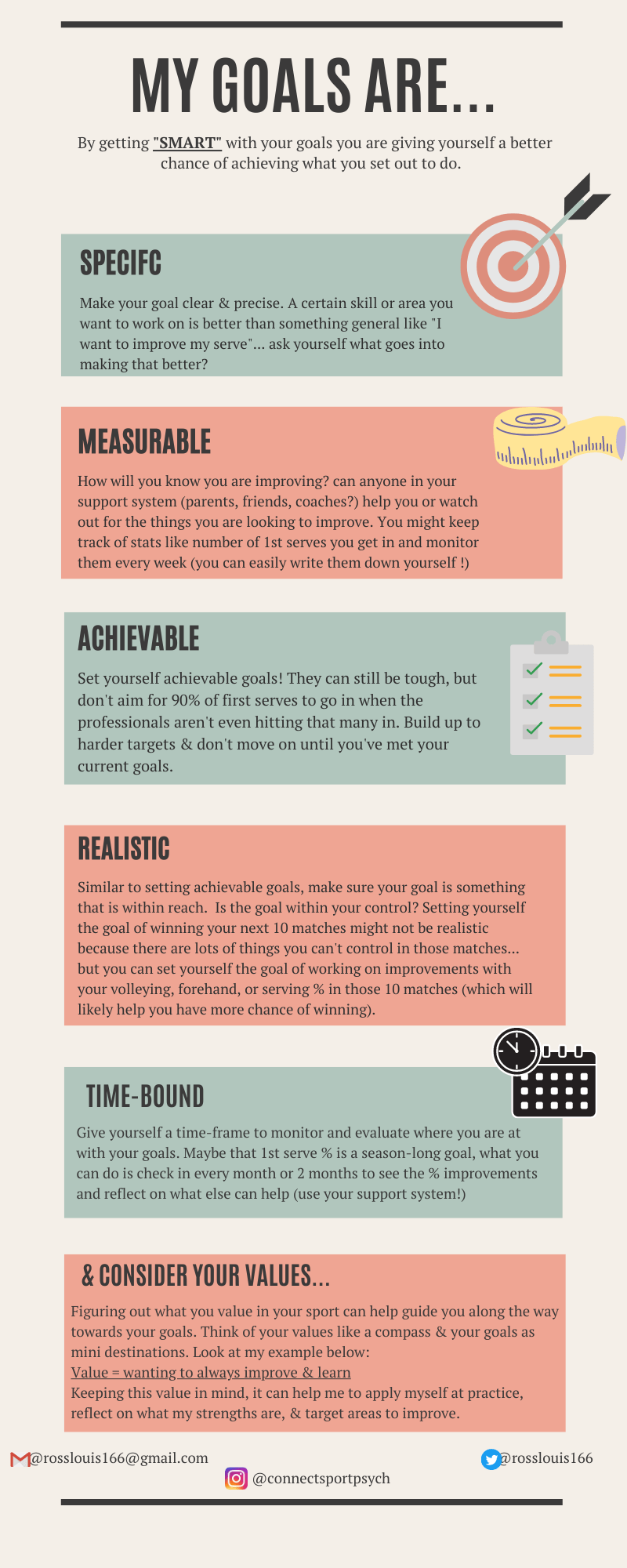 Click to expand.
Please watch my video below – it is all about using Box Breathing as a tool to deal with nerves when they manifest physically and psychologically.
Louis Ross
BASES SEPAR candidate
Sport and Exercise Psychologist in Training (SEPiT) Email: rosslouis166@gmail.com
Number: 07511 839 391
Instagram: @connectsportpsych / Twitter: @rosslouis166