Tennis for Mums and Toddlers
Our six week course is designed to give mums and their toddlers a healthy start to the week.
We offer mums a fun and lighthearted coaching session while toddlers and pre-schoolers have their own session with a different coach. Babies are welcome too, and their buggies can be parked at the side of the court.
All mums/women are welcome to join as this session is all about getting mums/women active and social.
We have rackets for everyone, different types of balls and plenty of space to enable you to play tennis and for your children to run around. Tea and biscuits in the clubhouse afterwards for those who like to socialise.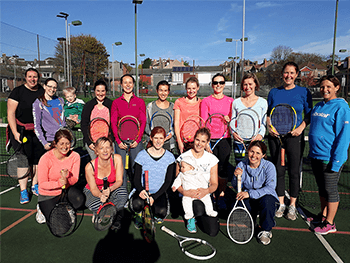 We run a very popular adult beginner class called Tennis Xpress, all details can be found here - Tennis Xpress
Yes! Cardio Tennis is for everyone regardless of your tennis level. It is based on footwork and building fitness with coach fed drills, so it doesn't matter where your shot goes! For more information please click here – Cardio Tennis
It will vary depending on how much you play but as a guide, if you play three times a week your racket should be restrung every three months.
When that time comes, our coach Francois offers a restringing service, more details can be found here – Tennis Racket Restringing